Akiba's Beat - Characters

Main Cast
This is your party. (You can cry if you want to.) Get to know them well. Learn everything there is to know about them. For the next 20-30 hours, they… will… be… YOU.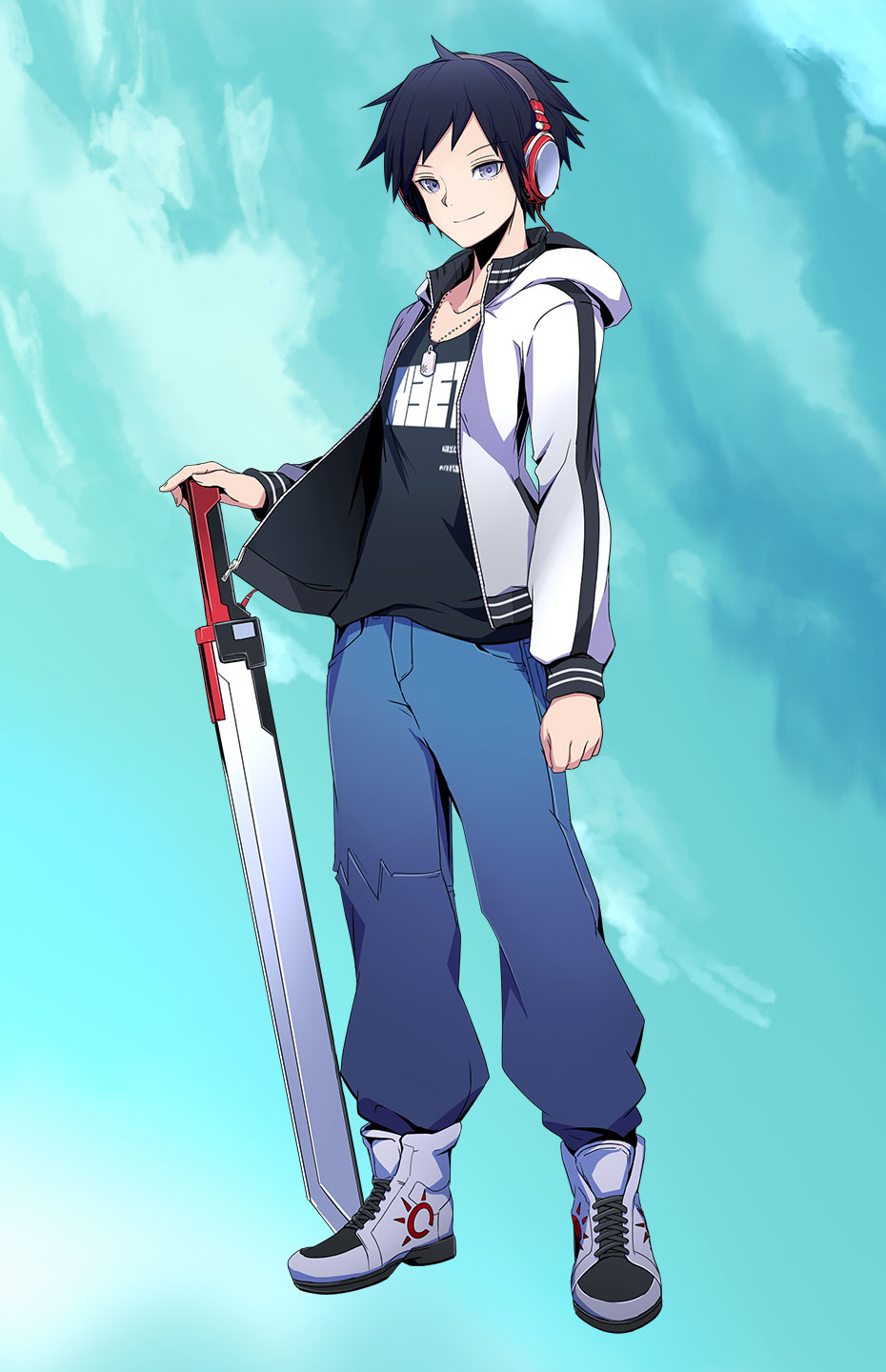 Asahi Tachibana
Age: 19
Weapon: Sword PP "Daybreak"
A textbook NEET who came to Tokyo for college, but quit during summer vacation of his freshman year after deciding there was no real place for him in higher education. He now lives alone in an apartment in the Akihabara district, his rent paid through an allowance provided to him by his parents. He has no desire to find employment or return to school, and generally does whatever he wants, whenever he wants. He has a tough time saying no to people, however, so he often gets roped into helping others, whether he likes it or not… assuming he can wake up on time, anyway.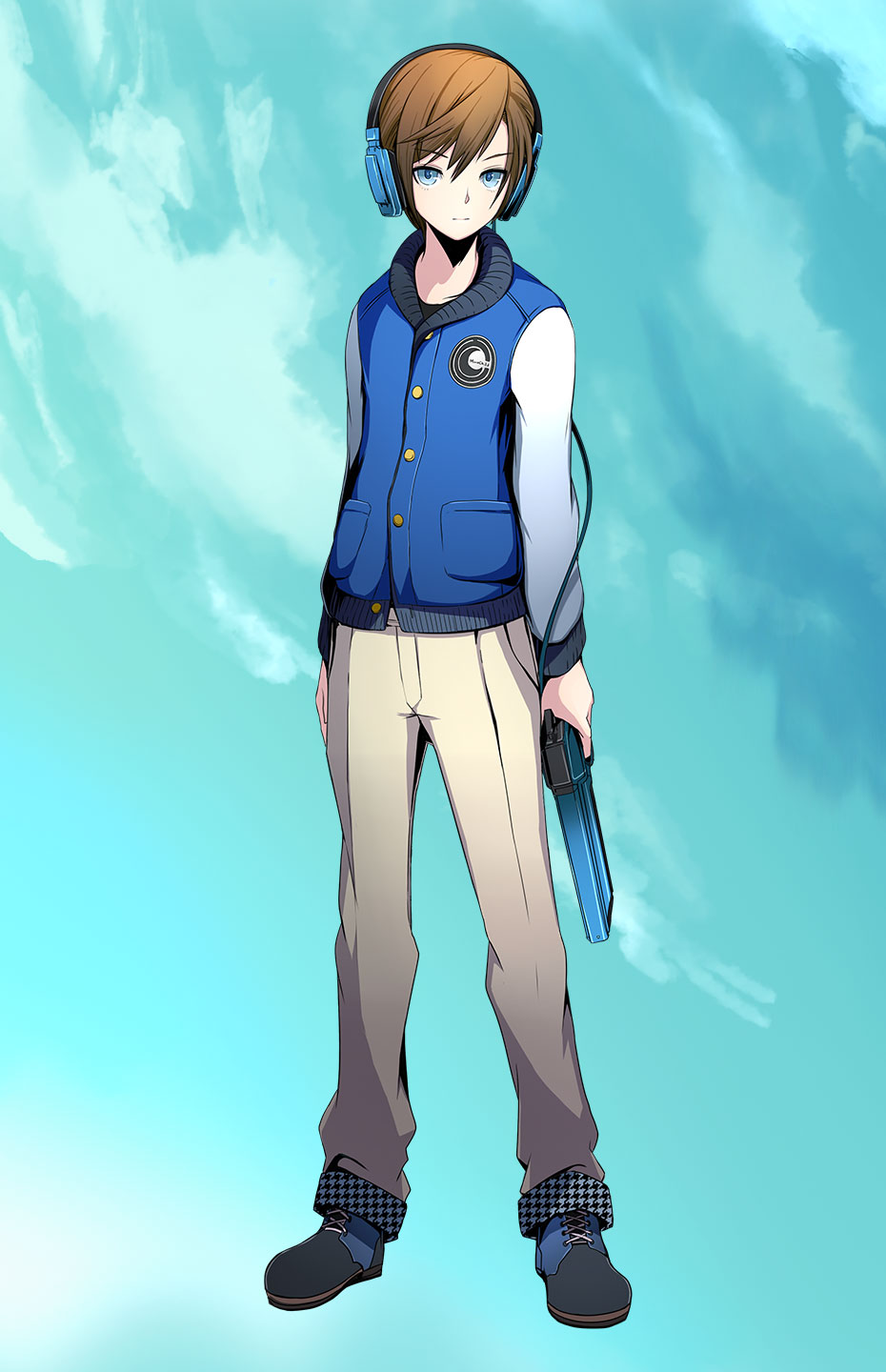 Mizuki Aihara
Age: 20
Weapon: Gun PP "Eclipse"
A childhood friend of Asahi's who, at times, acts almost like his guardian, always keeping close tabs on his health and safety and trying to snap him out of his NEET lifestyle. Mizuki has a knack for hard work and dedication, and shows this through his school life, remaining active on campus while still maintaining good grades and even tutoring on weekends. This has made him a very popular student with a very good reputation, yet he still chooses to spend most of his spare time with Asahi… assuming Asahi can ever keep to Mizuki's schedule.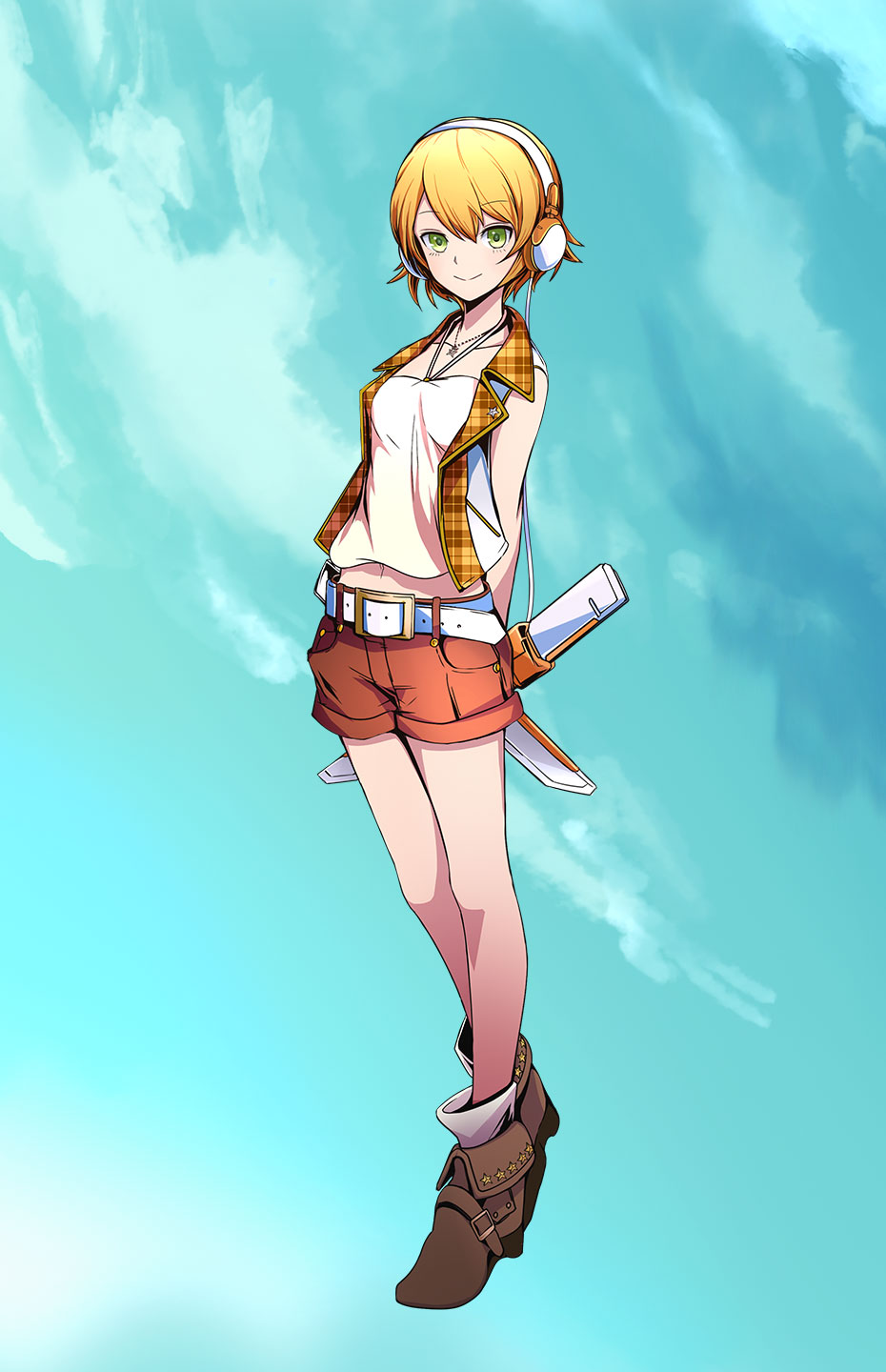 Saki Hoshino
Age: 18
Weapon: Dual Blade PP "Spica"
A native of Sendai in northeastern Japan, Saki recently moved to Akihabara to attend classes at a fashion design institute. Though generally cheerful and energetic, she's made it her life's mission to destroy people's manifested delusions together with her familiar, Pinkun, since long before meeting Asahi at the start of this story. As a result of spending so much of her time on such seemingly supernatural work, she considers herself a "chosen one," and tends to get rather obstinate with those who question her motivations. She regards anyone else she meets who can perceive delusions as either a fellow chosen one… or as one of those responsible for the spread of delusion, who needs to be stopped.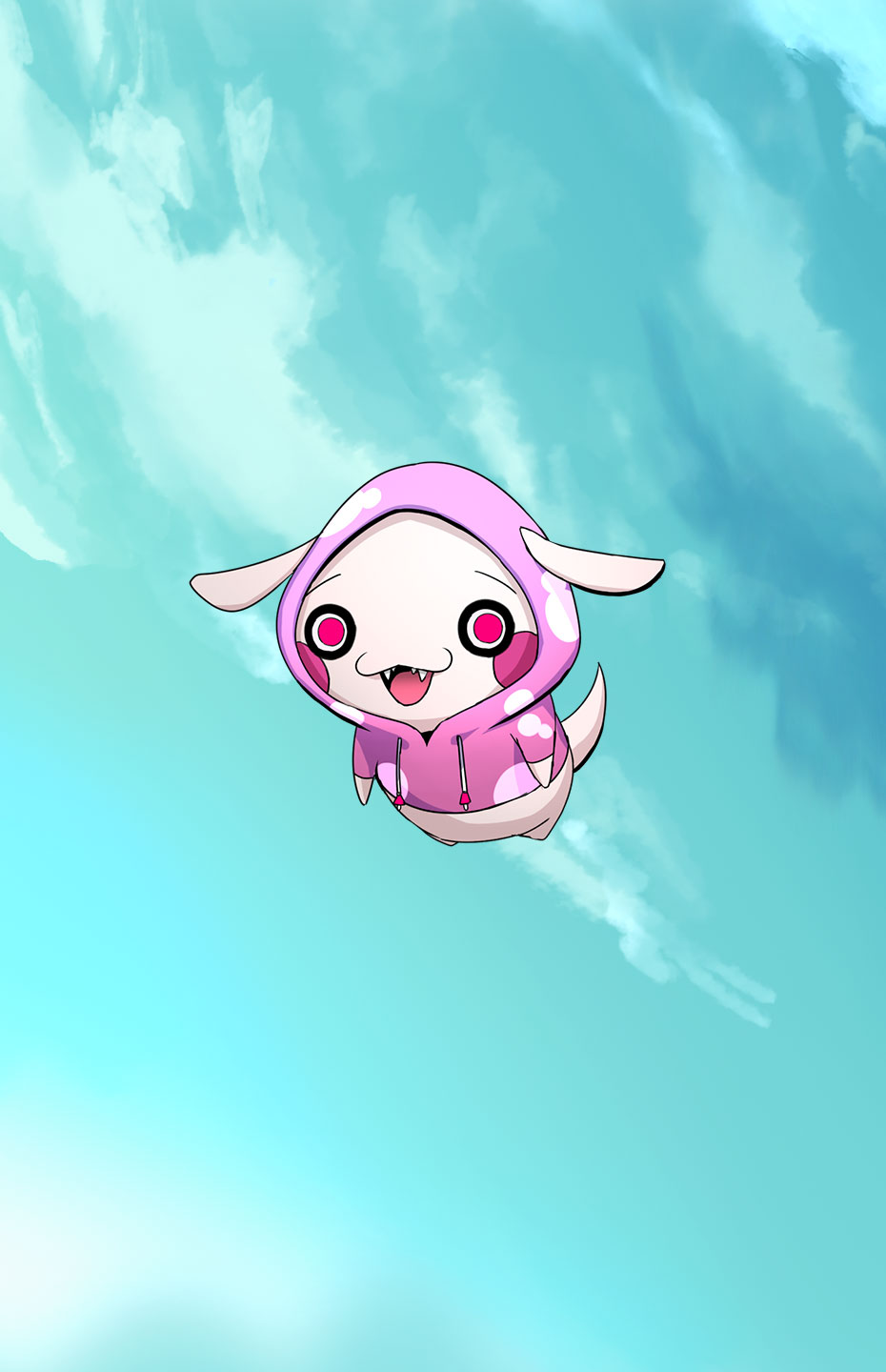 Pinkun
Age: Unknown
Weapon: Cuteness
A mysterious flying creature who's always with Saki. He claims himself to be a "familiar bound to her family line, with a storied and honorable history" – though he has no idea what that storied and honorable history might be, as he's not even really sure what he is or where he came from. He does think (know?) he's cute, though, and believes he'd make for an innately salable mascot. His favorite thing in the world is delicious food, unless you count his love of pretty girls (particularly when they're wearing maid outfits). He constantly refers to Asahi as "dingus" and makes fun of him for being a NEET.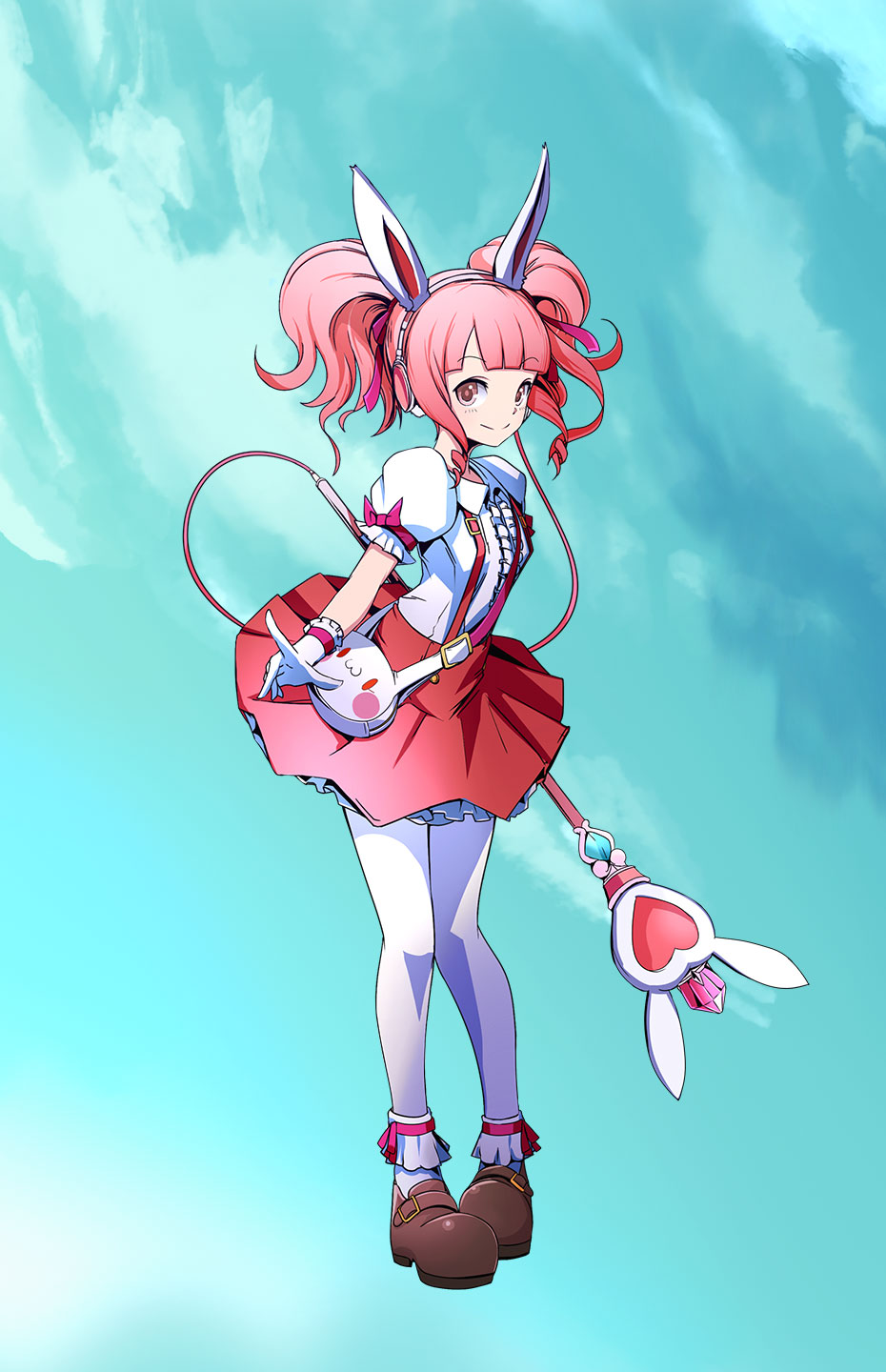 Riyu Momose
Age: 14
Weapon: Wand PP "Hunny Bunny"
An up-and-coming junior idol singer who's suddenly gained near instantaneous popularity in Akihabara. Goes by the stage name "Mippity Mop," as a reference to her bunny rabbit-themed outfit and her catch phrase: "Let's hippity-hop straight to your hearts!" Though she's only in junior high, she comes across as extremely mature and well-spoken for her age, likely due to the lessons in public speaking and public relations she's learned from her attempts to make it big as an idol. Always polite and courteous, Riyu serves as a voice of reason for the party and is generally both well-liked by everyone, and accepting of everyone… sometimes to a fault.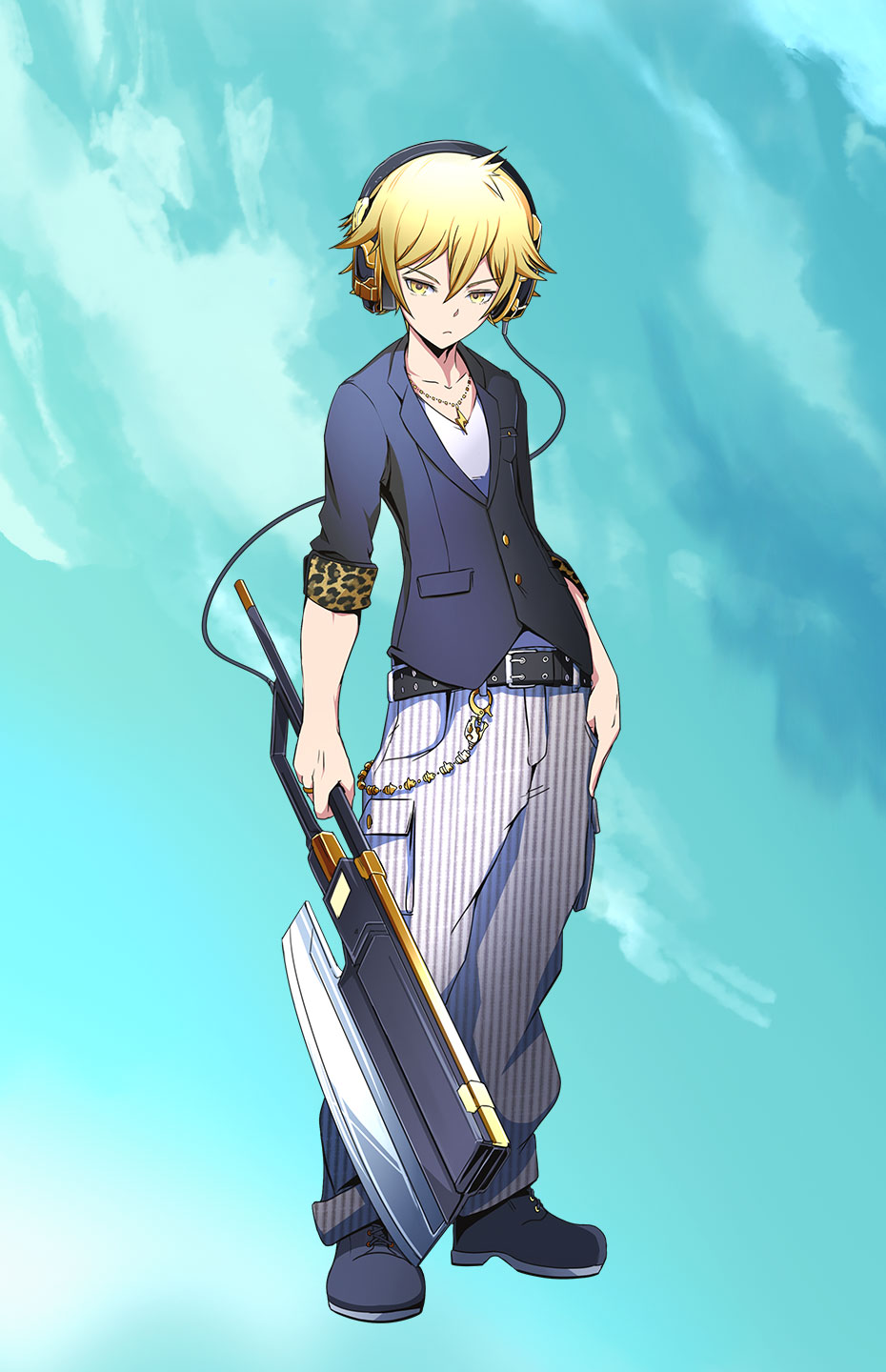 Yamato Hongo
Age: 16
Weapon: Axe PP "Ivan"
A "too cool for school"-style teenaged brat who's very self-conscious about how others perceive him. As with most kids his age, he's really into anime and collectible card games, with a specific fondness for those with dark, edgy themes. He'd prefer others not know about these "childish" preferences of his, however – nor about his family life, which sees him at his most caring and nurturing – so he tries his best to hide his true feelings behind a mask of unenthused disinterest. When push comes to shove, however, he always lets his inner nerd show… whether he wants to or not.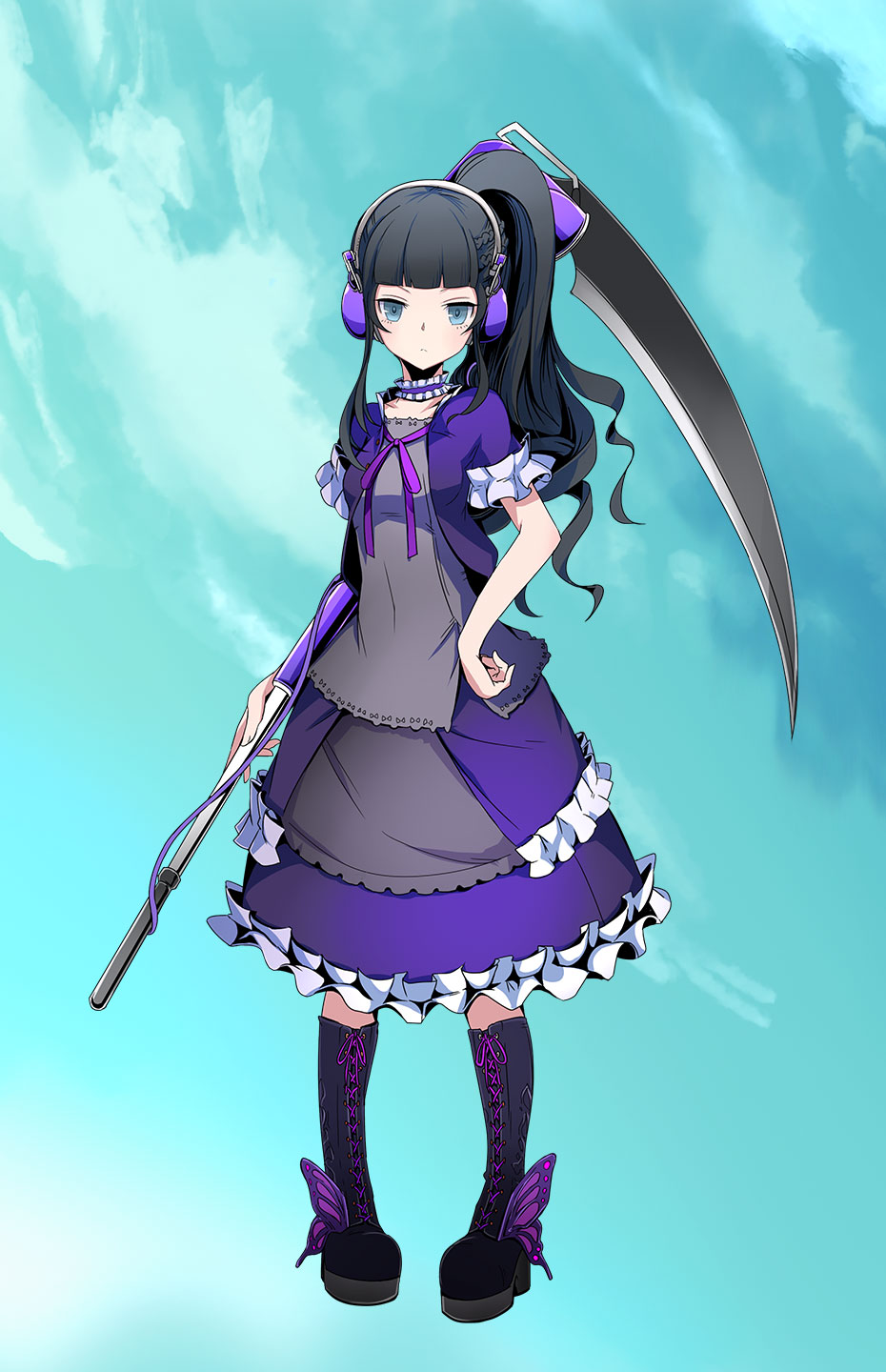 Kotomi Sanada
Age: 17
Weapon: Scythe PP "Rosé"
A well-to-do high school-aged girl who dresses in typical "Gothic lolita" style and has a decidedly abrasive personality. Her parents work overseas, only returning home once per year at best, leaving her to be raised by her live-in housemaid. As a result, Kotomi endures a somewhat lonely existence, befriending paper dolls before other people and utterly refusing to go to school. This has given her something of a complex, ensuring that the majority of her public interactions end up with whoever dared address her getting chewed up and spit out. Deep down, however, all Kotomi really wants are flesh-and-blood friends… though she'll never admit it.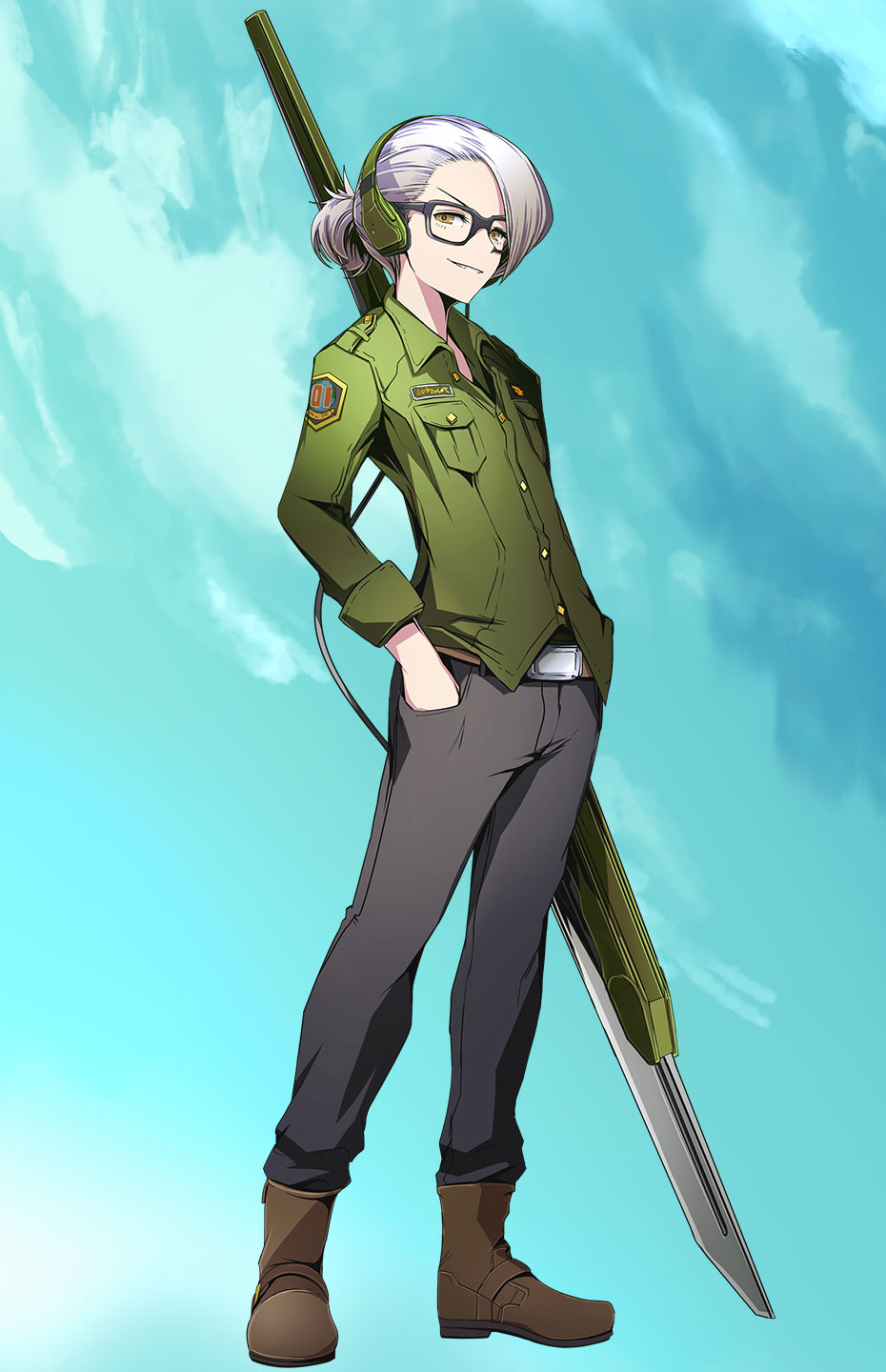 Reiji Shinomiya
Age: 28
Weapon: Spear PP "Real World"
A tall "old" man with a mysterious past. Though he's still in his 20s, he's often the oldest person in the room, and definitely has the "get off my lawn" mentality to match that status. He's returned to Akihabara after a lengthy absence in search of answers to questions only he can ask, though he's not particularly forthcoming on the details of that search. He seems to understand better than anyone else what's going on with the delusions, though he'd rather not get anyone else involved with them out of concern for their safety – and perhaps, a bit, out of fear that he might actually find the answers he seeks… and he won't like them.

Maid Cast
These girls will be your guides. If you can get them to join you, they'll alert you to whatever's nearby – treasure, enemies, Delusionscapes, the works! They might even help you out a little in battle. Who do YOU want taking point on your expedition?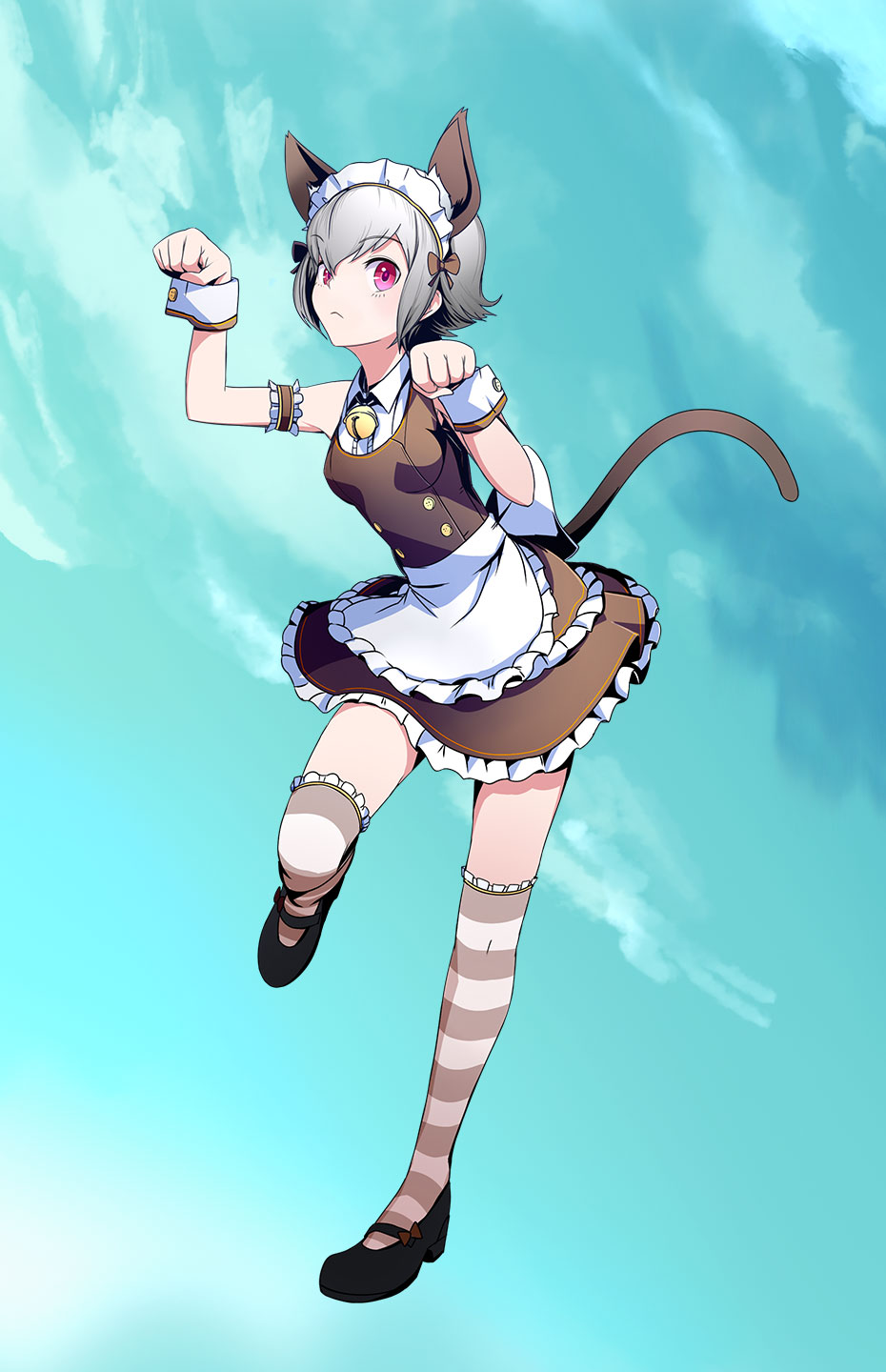 Miké Musumeda
Age: 20
A maid who works at a catgirl-themed maid cafe that just so happened to be celebrating its grand opening on the very day Akihabara entered its time loop. As such, she's constantly standing outside her restaurant, loop after loop, trying in vain to attract new customers with flyers and cute cat noises. Although she's fully committed to her role as a catgirl maid, it wasn't exactly her first choice, so when pushed, she can get a bit ornery and might even drop her persona – though it'll take a lot to get her to that point.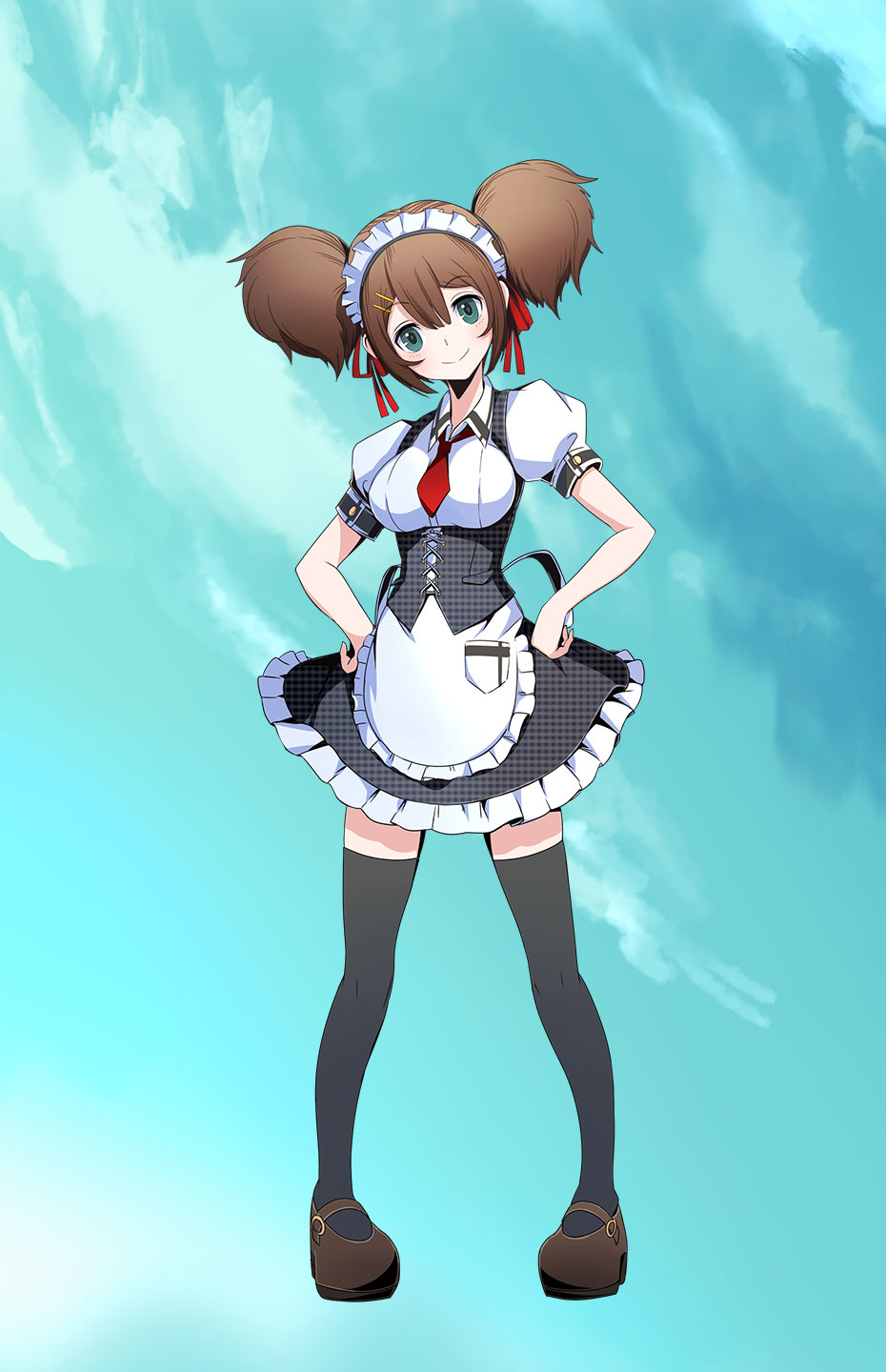 Moé Suzumori
Age: 18
The star maid at a cafe called Maidiators. Moé is so well-liked by customers and her fellow maids that her photo is even featured on the restaurant's sign. She's never taken a single day off of work, and never left any customers wanting for quality service. She takes great pride in her job, and even heads the maid union to ensure that other maids are treated fairly and have equal representation in any and all matters of importance to the industry. No one bears her any ill will, and most would say that she was born for this job; she is, essentially, the perfect maid. That's an awfully high bar, however, and if she keeps raising it as she has been, it may eventually wind up out of reach…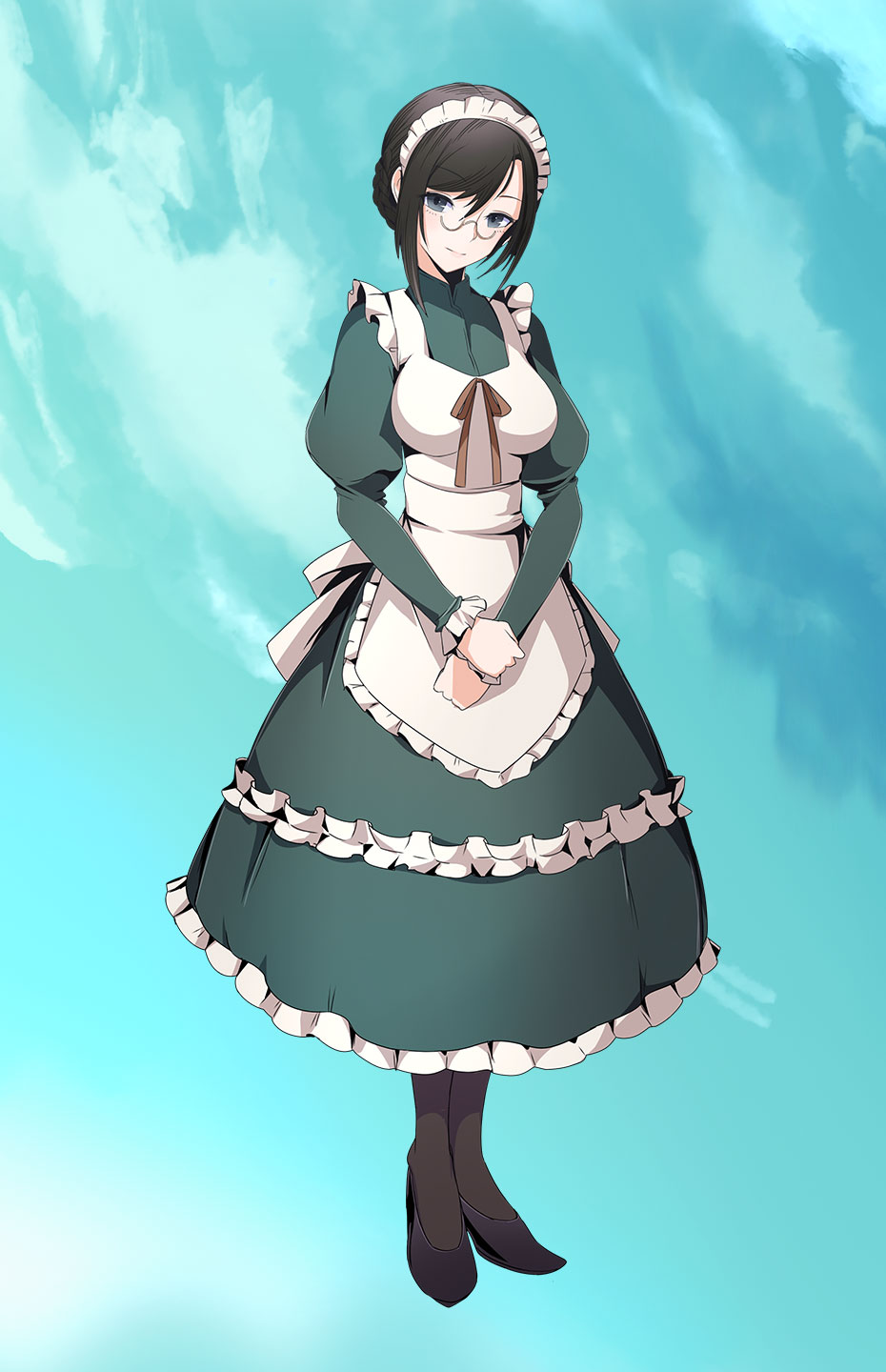 Yoshino Saionji
Age: 28
An actual housemaid who works exclusively in service of the high-class Sanada family. Her primary task is to look after their only daughter, Kotomi, while they're away – but the problem is, they tend to be away for roughly 364 days each year… or more. This makes Yoshino a full-time caretaker and guardian, which has forced her to become an expert in cooking, homemaking, art, and innumerable other fields, all in the name of ensuring her mistress has the best life possible. Unfortunately, Kotomi is not very receptive to Yoshino's parenting, choosing instead to spend her time alone with her dolls.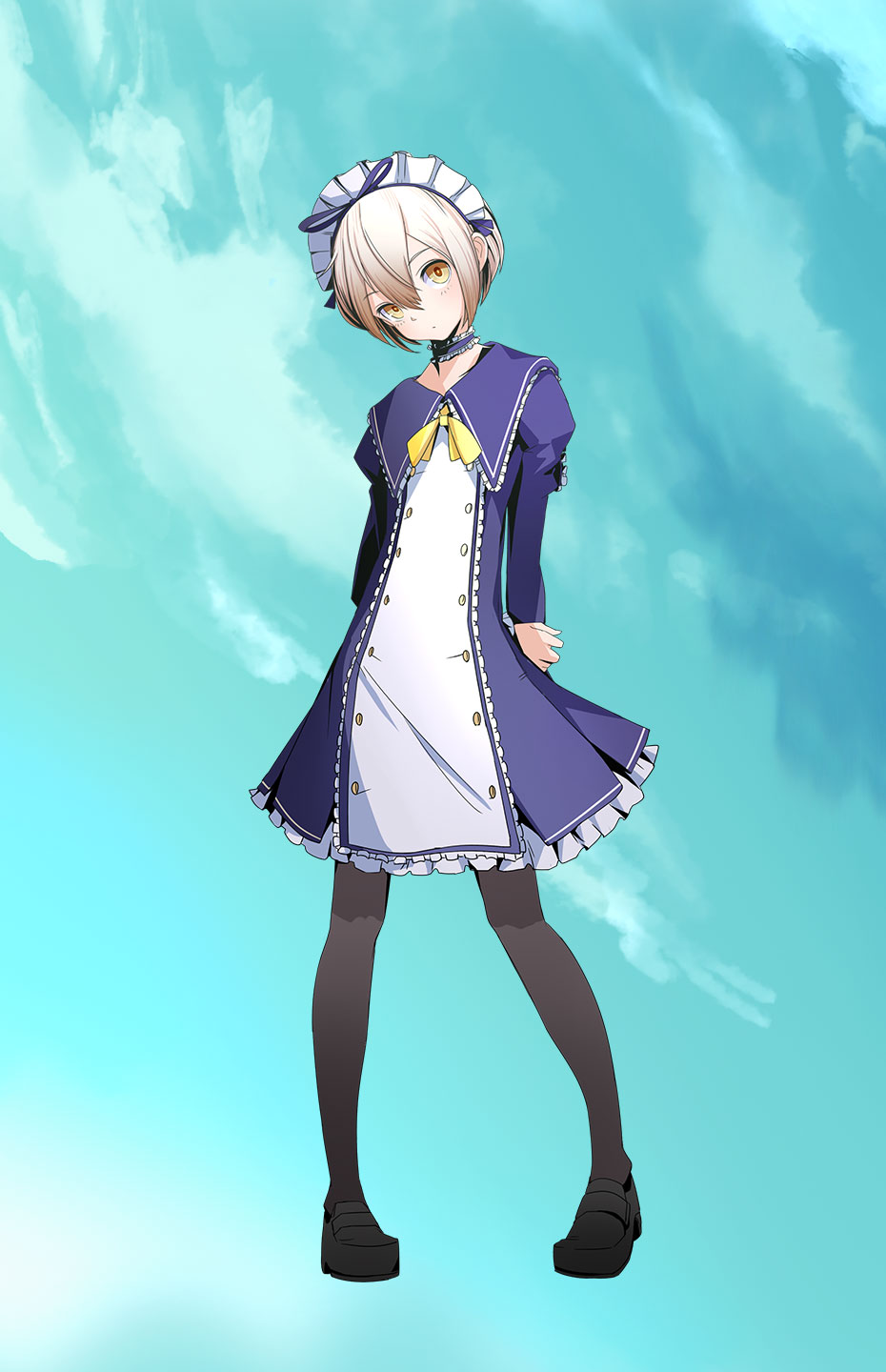 Kanata Saotome
Age: 16
A boyish maid who works at a bar called Violet Eden. She boasts a slender physique and is perpetually demure, making her very popular with the customers. She's greatly lacking in self-confidence, however, and thus generally looks to her mentor, Akemi, to keep her busy and bolster her spirits. Although she'd probably prefer to stay in the background unnoticed, she takes Akemi up on her suggestion to help Asahi and his team in an effort to overcome her own anxieties.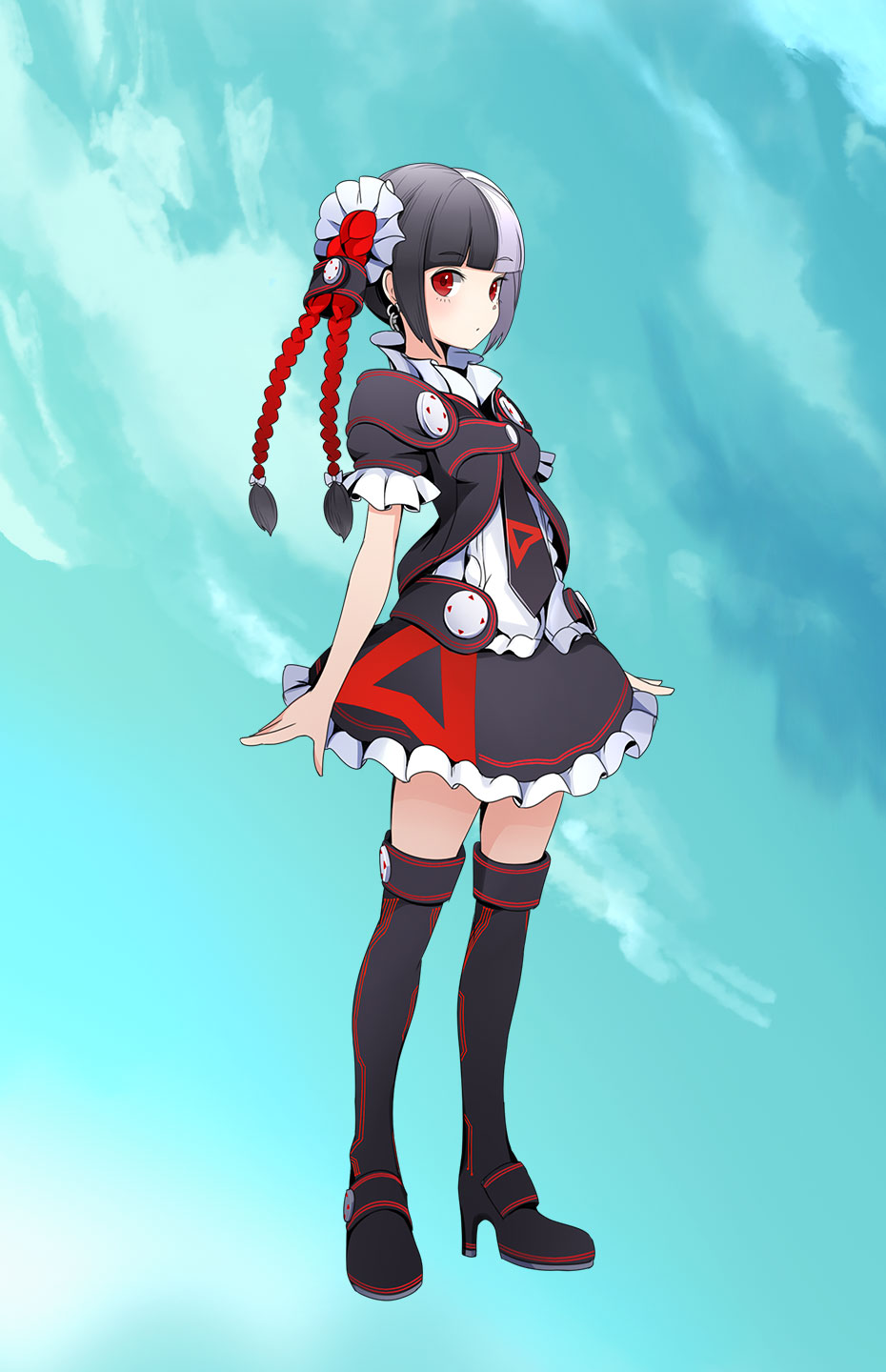 ???
Who is this? She's not on any of our lists. Is she from Akihabara? Is she even from the real world? From another game, perhaps? She bears further investigation… but she's elusive! You'll have to find her before you can learn anything about her…
Aid Cast
These are some important-ass people. You'll definitely be seeing them a lot during your adventure. Guaranteed. Some, you'll be happy to encounter. Others, not so much. But whenever you see one of 'em in the distance, you can be sure: somethin' big's about to go down.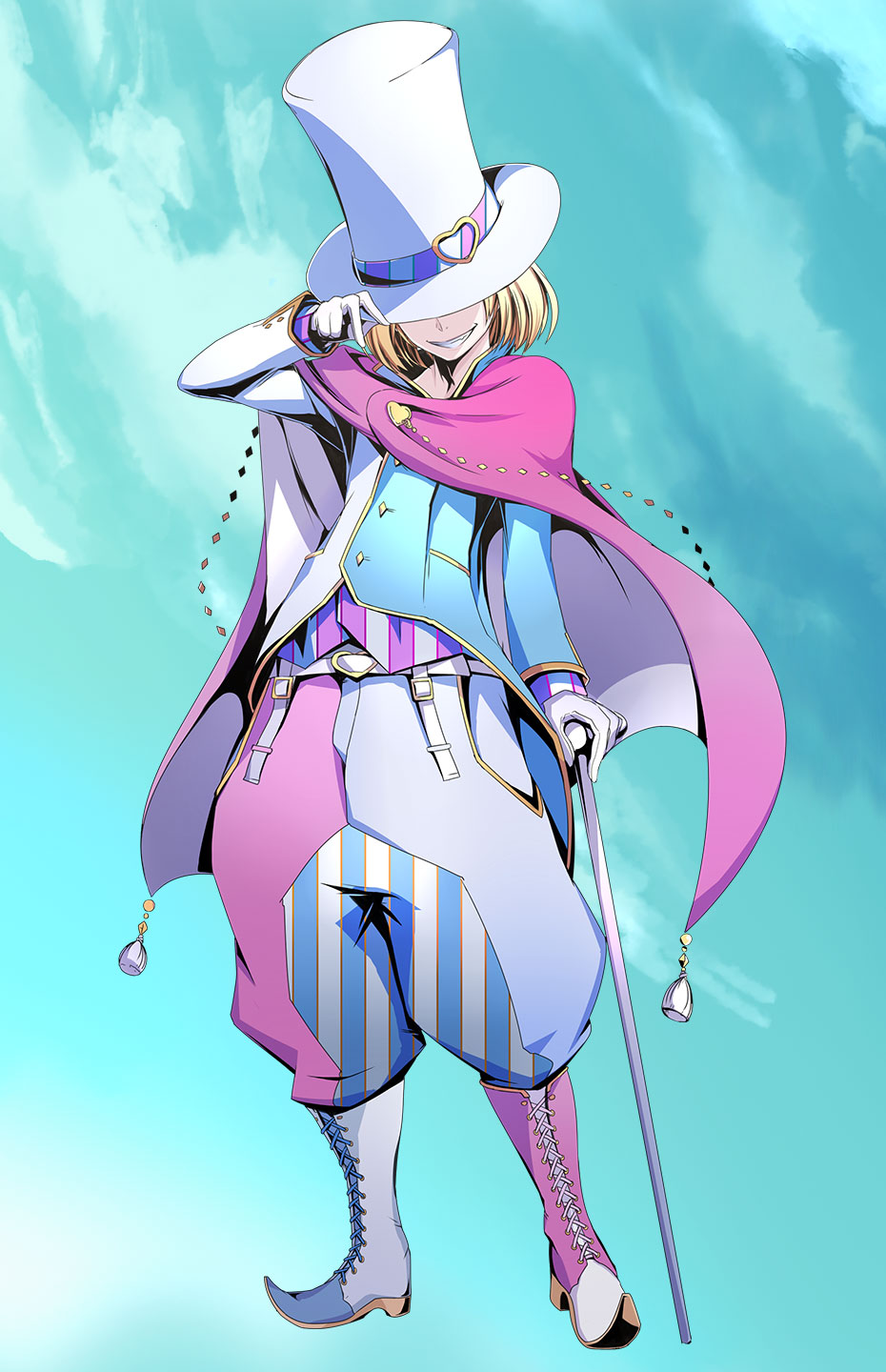 The Pink-Caped Man
Age: Unknown
An urban legend of a man wearing a pink cape and a giant white hat, who can supposedly guide you to "a brilliant delusion, greater even than any dream." In other words, he can make your deepest, most heartfelt fantasies into reality… allegedly. Elusive and mysterious, no one is quite certain who or what this man may be, nor where to find him, but his influence seems to be spreading across all of Akihabara, and as his power grows, more and more of the town is being consumed by delusion.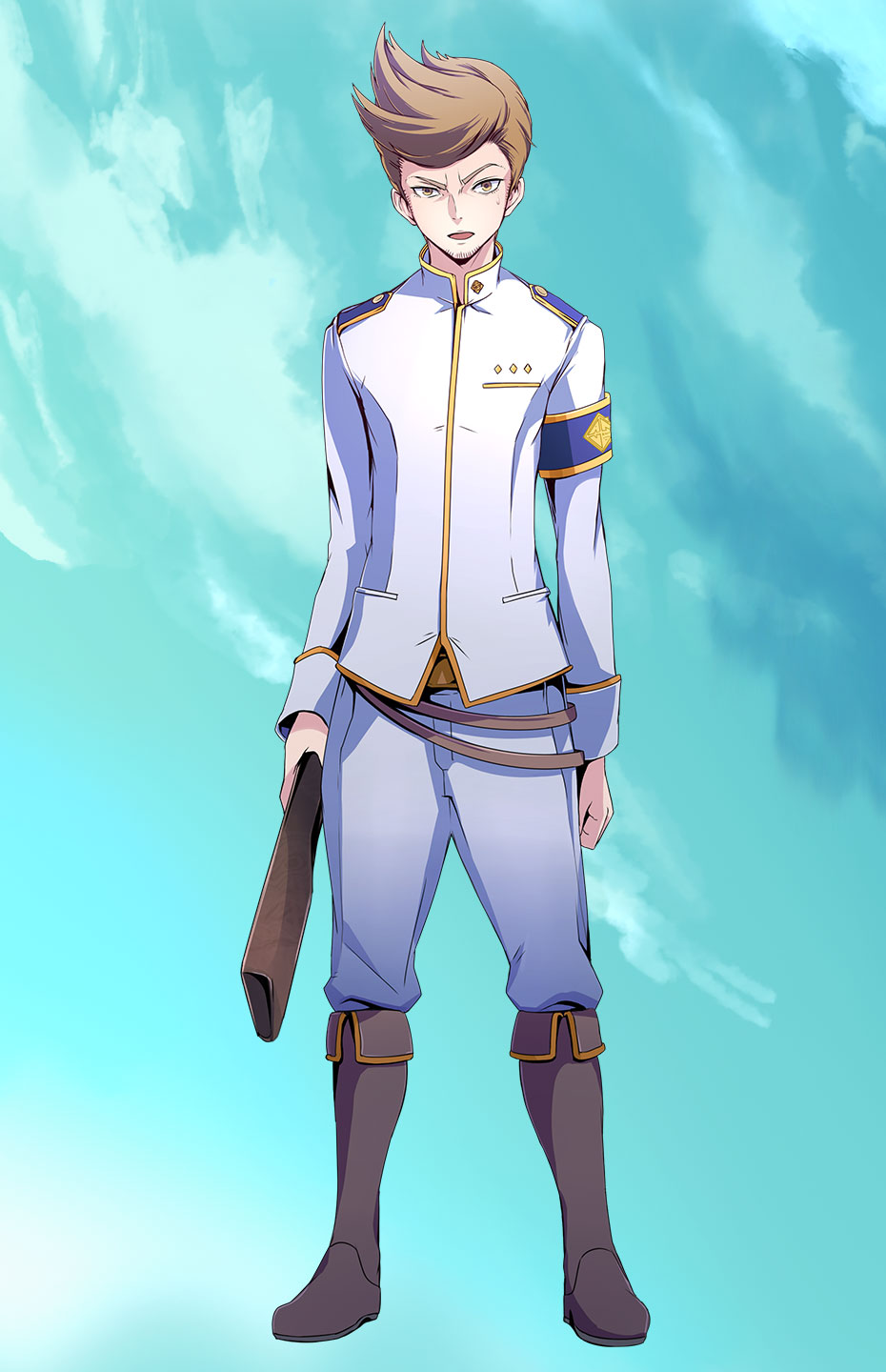 Boss
Age: Unknown
The leader of a ragtag group of delusion-busters known as the Akihabara Freedom Fighters. No one knows how old he is, but he looks like he's in his late 20s or early 30s. Additionally, no one knows his name, as everyone simply calls him "Boss." He loves Akihabara more than anyone, fighting for peace throughout the town by seeking and destroying the delusions that have begun encroaching upon it. He's very easy to spot and rather unforgettable thanks to his pompadour, his cowboy-like demeanor, and his general excess of swagger.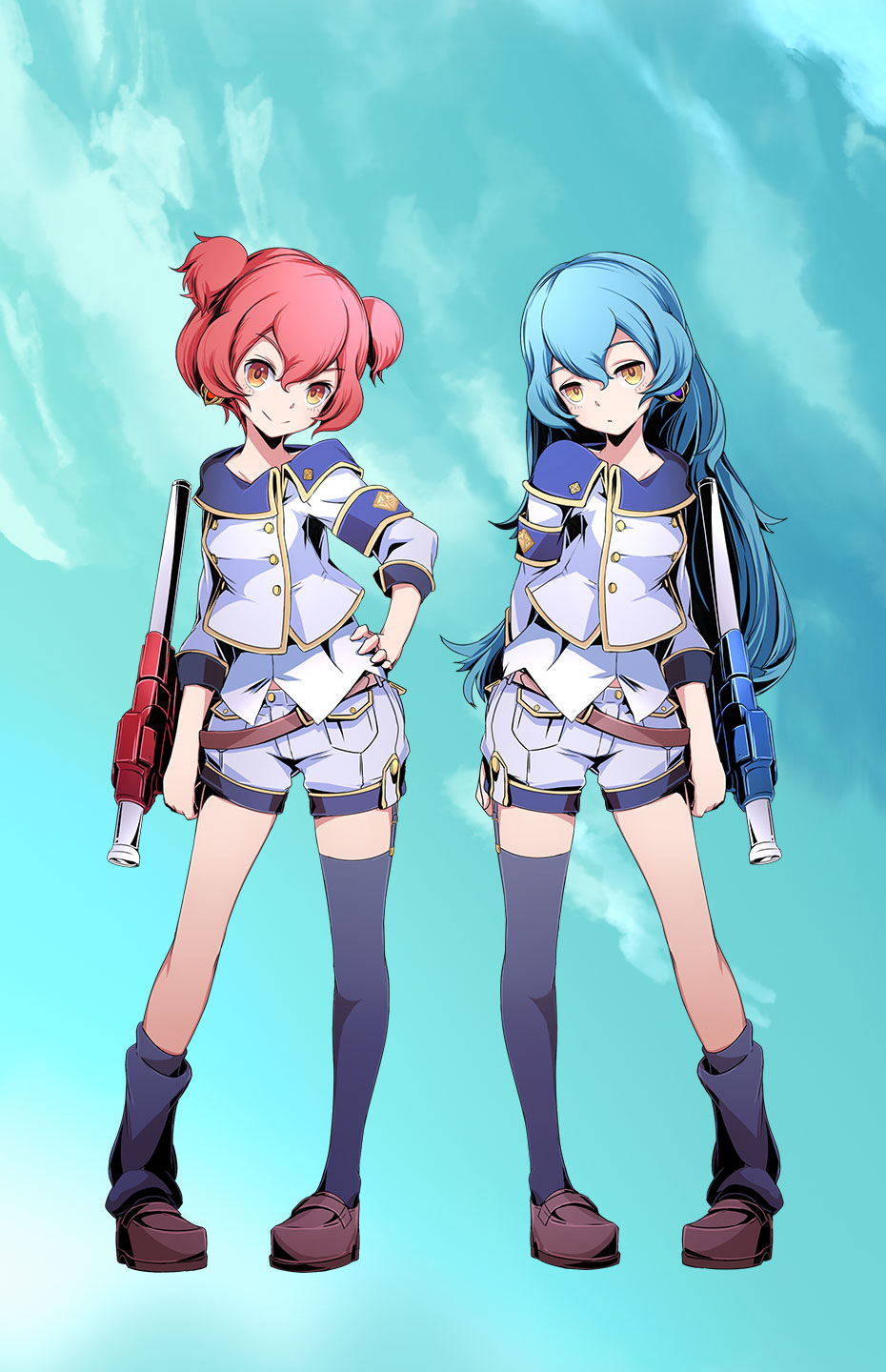 Akari & Aoi Hoozuki
Age: 16
The red and blue twin lackeys of the Akihabara Freedom Fighters. They have basically the same face, but are as different in every other way as their color schemes would suggest: Akari is an airheaded firecracker who always acts before she thinks, while Aoi is a cool and collected planner who keeps both her sister and Boss in check. Together, they work toward protecting the peace of Akiba, one delusion at a time.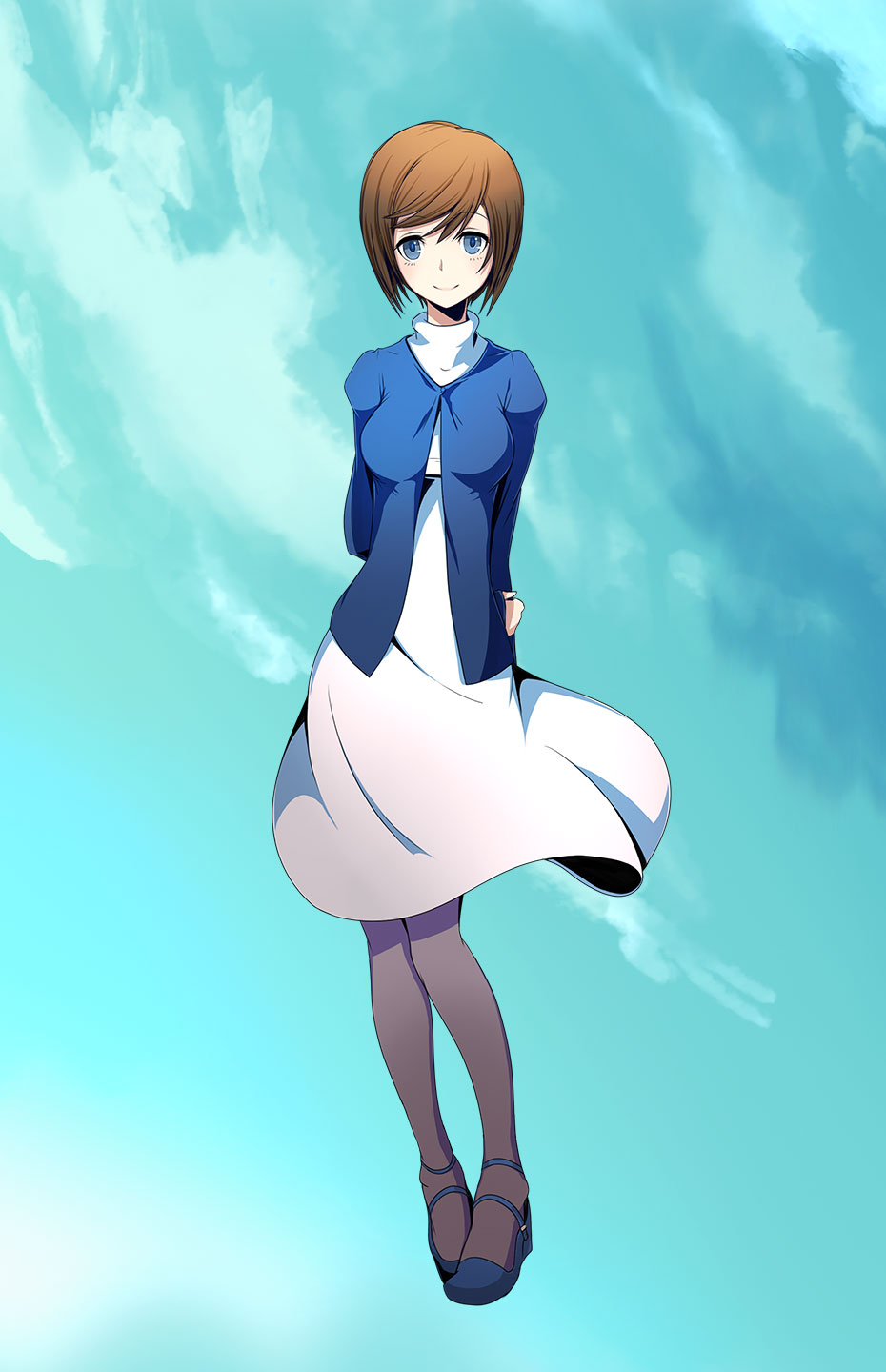 The Girl in Blue
Age: Unknown
A fashionably dressed young woman who appears to be in her early 20s. She instantly recognizes Asahi upon meeting him, but he can't quite seem to place her – a fact that initially irritates but ultimately entertains her as she withholds her identity from him until he remembers on his own, berating him for forgetting someone so near and dear to his heart. Feisty, mischievous, and a bit of a mystery, the girl in blue always seems to pop up right when Asahi needs a friendly ear or a new perspective, helping him sort through his thoughts and putting him back on the right track.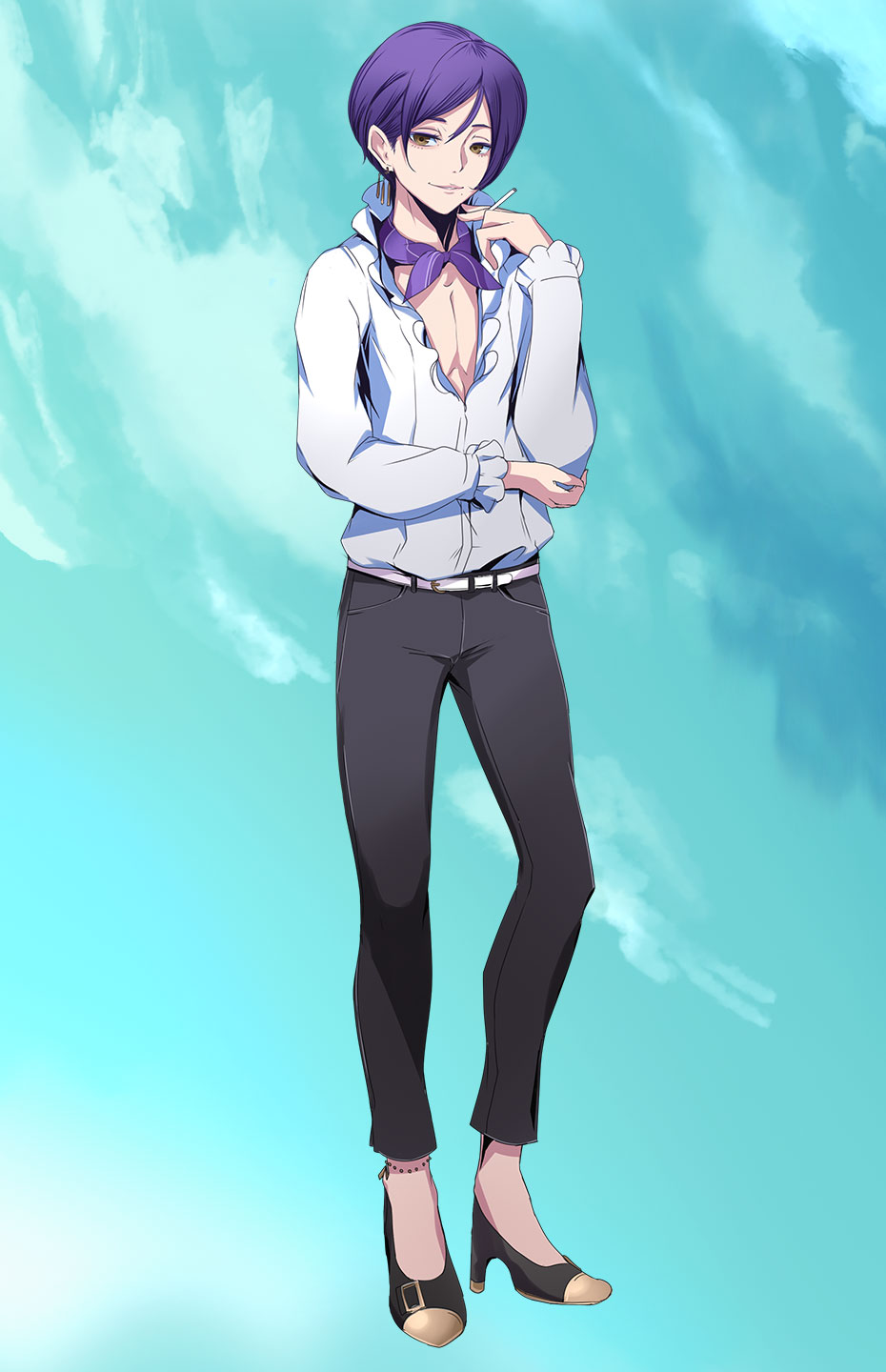 Akemi Ecstasia
Age: Won't tell
An enigmatic drag queen who runs a small bar called Violet Eden. Akemi is sassy and mischievous, and seems to always have her finger on the pulse of Akihabara, working behind the scenes as something of an information dealer who finds herself privy to all manner of rumor and gossip. Despite her somewhat shady ties, Akemi quickly proves herself an entirely trustworthy ally to Asahi and his friends, turning Violet Eden into a sort of home base for them. Akemi also has very close ties to Reiji, and has taken Kanata under her wing as a protégé and – for lack of a better term – errand girl. Evidently, Akemi has created a rather impressive delusion of her own, though no one is quite certain what it is.

AI Cast
As in, AI-controlled. As in, NPCs. (Hey, don't look at me like that! It goes MAIN, MAID, AID, AI! It's a progression, dammit!) These are important characters too, but I can't tell you anything about them for spoiler reasons. Not even their names! But here's what they look like, at least. That's something, right? Right?! RIGHT?!